Rikkyo Kanji Certificate Examination (RKCE)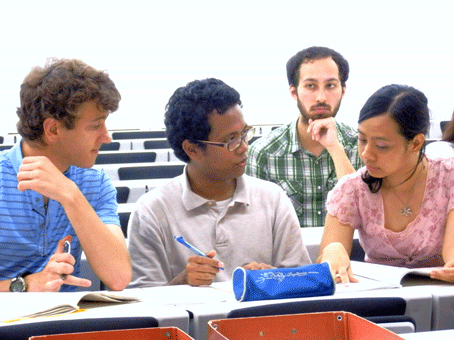 The Rikkyo Kanji Certificate Examination (RKCE) is an original test designed by Rikkyo University to evaluate students' knowledge of kanji (reading, form recognition and meaning), and is held four times a year.
It does not affect overall grades in the Japanese Language Program. It is held in order to monitor your progress. If you score sufficiently on the exam, a certificate of accomplishment will be issued.
The registration procedure is as follows:

Examination Schedule
◆AY2022 Rikkyo Kanji Certificate Exam Schedule (Each exam is held on campus.)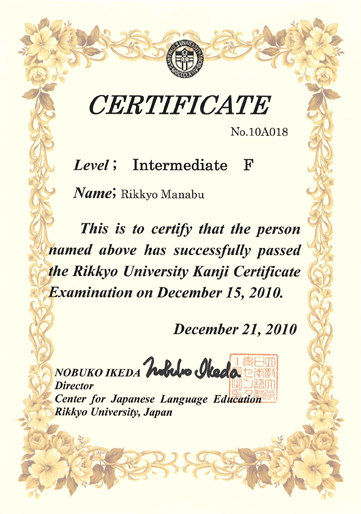 Examination
Date and Time
Registration Deadline
*Exam Implementing Decisions
Wednesday,
June 1
5:10pm
Wednesday,
May 4
Monday,
May 23
Wednesday,
July 13
5:10pm
Wednesday,
June 15
Monday,
July 4
Wednesday,
November 23
5:10pm
Wednesday,
October 26
Wednesday,
November 16
Wednesday,
January 18
5:10pm
Wednesday,
December 21
Wednesday,
January 11
*Exam Implementing Decisions:To prevent the spread of COVID-19 infection, we will determine whether the Kanji Certificate Exam can be conducted based on the university's restriction level in activity restriction policy. If it cannot be implemented, the CJLE will contact the applicant by email on the day.
Registration
Application forms are available at the Center for Japanese Language Education Office. Students must complete the form before the deadline
and submit it to the CJLE Office (In Kanji class,Instructions will be given by the staff).
CJLE Office
Ikebukuro Campus:International Office(McKim Hall, 1st floor)
Niiza Campus:International Office(Building No.7, 2nd floor)
Exam Levels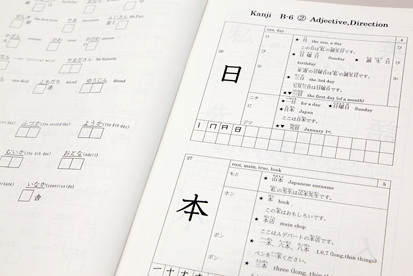 The RKCE has three levels: basic, intermediate, and advanced. Each level is further divided into six stages for basic (B6-B1), seven for intermediate students (IA-IG), and seven for advanced students (AA-AG). Depending on your skill level, learning progress and your area of specialization, you can choose the appropriate level, stage and area. Students must sit for each test in sequence ? if you start from B4, you cannot take B2 unless you pass B3.

If you are absent from or cancel the exam, or when you fail the exam, upon the next application, you have to apply from the limited levels, stages and areas as following.
Level of your last application
If you are absent from or cancel the exam
When you fail the exam
Basic
Reapply for the same stage.
Reapply for the same stage or lower stage.
Intermediate
Reapply for the same level and the same area.
Reapply for the same level and the same area or apply for Basic level.
Advanced
Reapply for the same level and the same area or apply for Intermediate or Basic level.
Kanji List