Japanese Language Support Desk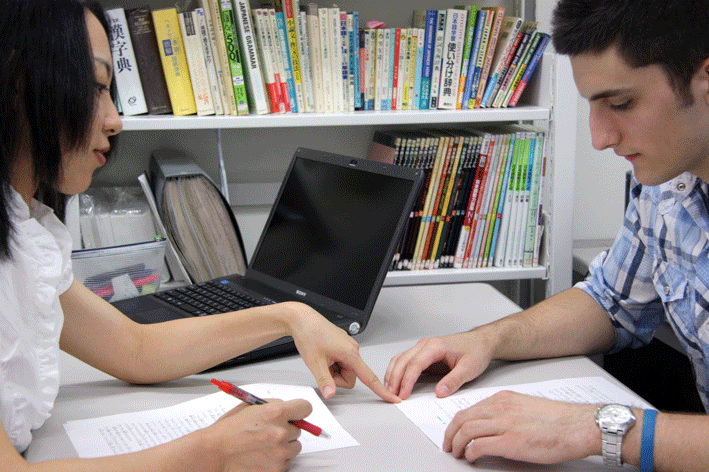 The CJLE offers the Japanese Language Support Desk service to assist international students in their Japanese language studies. CJLE Instructors who specialize in Japanese language education and Student Advisers will consult with you. There are 2 types of consultation slots for Japanese Language Support Desk. One is CJLE Instructor's slots and another is Student Adviser's slots. Schedule and type of support are different between CJLE Instructors and Student advisers.Please read below carefully before you make an appointment.

The services include the following:
Types of Support
The CJLE Instructor's slots provide support from (1) to (3)below, while the Student adviser slots are avilable only for the undergraduates and provide support only (1), (2) and the correction of sentences of the speech contest, having a discussion about a reaction paper and checking Japanese writing .
(1)Personal tutoring on report of regular curriculum subject
(2)Personal tutoring on preparing presentation of regular curriculum subject
(3)Others
Advice on completing job application and scholarship application forms in Japanese
Introduction of Japanese textbooks and other self-study materials
Provision of information on the various Japanese language certification tests, including
the JapaneseLanguage Proficiency Test (JLPT)
*Any assignents from Japanese classes are not acceptable.
*In principle, prepare the materials for consultation in advance or on the consultation day.


How to Make Appointments

Please consider the rules for reservation below and click "Reserve Online" below to make an appointment.
<Reservation>
●Normally, appointments can be made two weeks in advance.
 Appointments at the beginning of each semester can be made 7 to 10 days in advance.
●Appointments can be made for one 50-minute session each time.
●Appointments made online must be made at least one day in advance.
●An appointment on the day is acceptable. Please note that it would take time for arranagement so that make sure to have enough time for making an appointment. Please email CJLE at cjle@rikkyo.ac.jp to make an appointment on the day. An appointment on the day is available for students who have a future reservation without them needing to forfeit their prearranged session.
<Submit the work to have checked in advance>
●If the work that you would like to have checked is long, please email them to designated email address below by 5:00 pm 2 business days prior to the appointment date.
【CJLE Instrucutor's slots】cjle@rikkyo.ac.jp
【Student Adviser's slots】cjle-adviser@rikkyo.ac.jp
In your email, make sure to write the appointment date/time, your student ID number, and name in full. Then the instructor can read it beforehand. Depending on the contents and length, you may need to have several sessions.
<Cancellation or change reservation>
●You may cancel or change reservation online by the day before the appointment date.
●Cancellation and reservation change cannot be made online on the day of the session.
 Please contact the CJLE office us by email at cjle@rikkyo.ac.jp


Open Hours
The Support Desk is offered during the semester and the official exam period.
*Closed during University recesses (Summer, Fall, Winter, Spring)
If classes are cancelled due to some special conditions such as an approaching typhoon, the Support Desk is closed. In that situation, please make a new reservation.
The Support Desk open hours are as below.
●The schedule of student adviser will be posted here once it will be fixed.